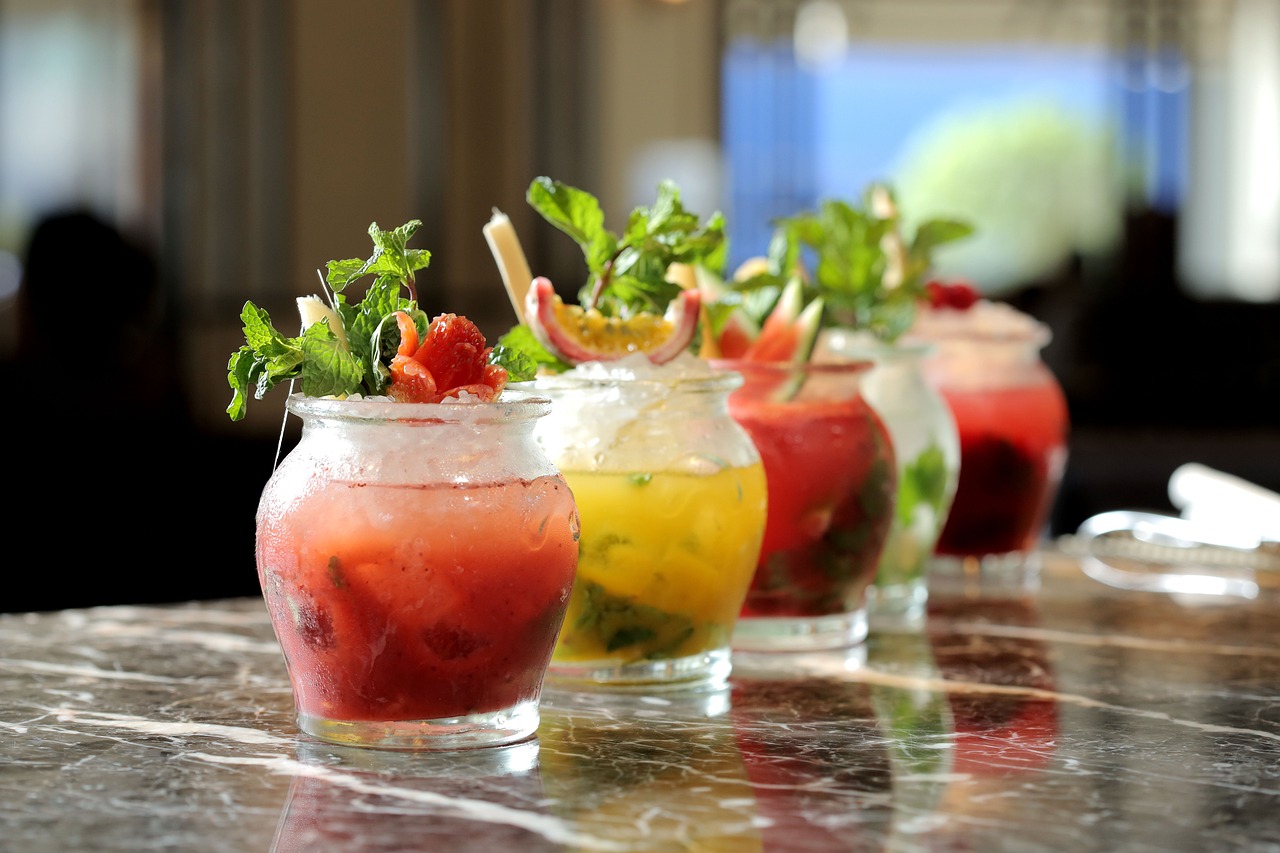 Festive cocktails with fresh fruits
Fruits give a special taste to any culinary dish, and drinks are no exception.
To properly celebrate the coming of the New Year, we offer you some special drinks, whose absolute stars are fruits. Most cocktails are garnished with lemon or lime slices, but these mixes are much tastier, since the fruits are the main ingredient
BELLINI WITH FOREST FRUITS
A classic and timeless cocktail, traditionally prepared using sparkling wine and peach puree, can be reinterpreted with the help of berries. In fact, the recipe can be implemented with almost any fruit.
Ingredients (2 servings):
400 ml chilled sparkling white wine
2 tablespoons of berry puree (raspberries, strawberries, blackberries, blueberries, currants)
Zmeură proaspătă pentru ornat
Preparation:
Pour the sparkling wine into two champagne glasses and add to each one a spoonful of the puree obtained from the berries crushed with a fork. At the end, add one fresh raspberry directly to the glass, without mixing, as the components must remain separate.
BLACK MARTINI, A SUPER COCKTAIL WITH BLACKBERRIES
This cocktail is more of an array of flavors, a surprise for your taste buds from the first sip to the last. Although the combination is unusual, it will certainly attract anyone's attention, and the contribution of blackberries is undeniable.
Ingredients (2 servings):
90 ml vodka with lemon
30 ml of ginger liqueur
30 ml sugar syrup
30 ml strained blackberry puree
Large blackberries for decoration
Preparation:
Use a shaker to thoroughly mix the vodka, ginger liqueur, sugar syrup, and blackberry juice, along with a few ice cubes. Pour the mixture into pre-chilled glasses, and garnish with blackberries inserted into toothpicks, placed carefully on the rim.
BERRY FRUITS MOJITO
The famous cocktail prepared with rum and lemon acquires an even more intense color and taste, due to the berries.
Ingredients (2 servings):
300 g of fresh berries
60 ml white rum
400 ml carbonated mineral water
Fresh mint
Ice
Preparation:
Crush the mint (reserve a few leaves for garnish) and ice, and pour into two tall glasses, add the rum, mineral water, then crush the berries, and divide the puree equally. Add the mint leaves and mix vigorously.