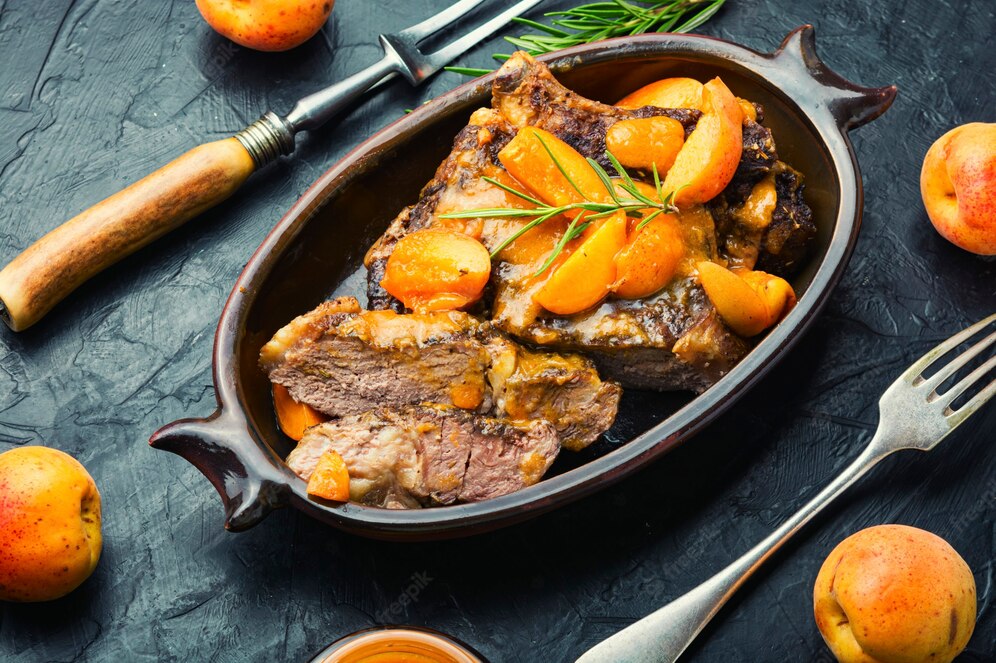 Surprising culinary associations – to say the least
"By combining one taste with another, something new is created", stated the mouse Remy from Ratatouille, the famous animated film that pays tribute to French gastronomy, in a way that children can understand. And he spoke, thus imagining one of the most famous food combinations: cheeses and grapes.
It may be the most famous combination, along with prosciutto and melon, or figs and foie gras, but there are many other combinations of ingredients that can create rainbows on the palate. For example, the addition of fruit in meat or vegetable dishes – a trick that many chefs with Michelin stars and more use to balance the tastes.
Get inspired by our selection, making fruit the star of the menu, from appetizers to main courses, not just dessert.
Above all…
... there is a rule in nutrition, frequently invoked even by nutritionists, according to which meat should not be combined with fruit – apparently not even with some vegetables, because of the impact it could have on digestion. Well, similar to many of the theories that we have lived much of our lives by, this one is about to be overturned; therefore, if we do not face digestive problems, fruits can be eaten in the same meal as other dishes (without excesses, of course), and we can even benefit from their effects that way. For example, eating pineapple helps the good digestion of meat dishes, due to the enzymes that it contains. Moreover, the fact that recipes with meat usually involve cooking the fruit means they will not ferment. Last but not least, many of the fruit recipes are on the menus of restaurants all over the world, so they have been tested for a long time, so that they can be eaten with confidence.
Here are three examples:
INGREDIENTS
3 large eggplants
Seeds from one pomegranate
3 tablespoons of extra virgin olive oil
2 cloves of garlic
Parsley
Salt & pepper
2 tablespoons of sesame paste (tahini)
Cut the eggplants lengthwise, then ridge them on the inside, brush them with olive oil, and place them in a tray lined with baking paper. Sprinkle the chopped garlic, greens, and spices on top of the eggplants, then put them in the oven at 180 degrees Celsius for 20-25 minutes. Take them out of the oven, and leave them for 10 minutes, then sprinkle with pomegranate seeds. Serve them with tahini paste (you can thin it using lemon juice).
Roast veal with apricots and figs
INGREDIENTS
1.5 kg veal leg
One glass of white wine
2 carrots
One large onion
3 cloves of garlic
20 g butter 80%
250 g of tomato paste
100 g dried apricots
5-7 figs
Olive oil
Salt, pepper, rosemary
Brown the entire piece of meat in a pan in a mixture of olive oil and butter, then add the garlic and rosemary. In a larger pot, suitable for the oven, sauté separately – also with butter and olive oil, onions, and carrots, add salt and pepper, and transfer the meat over them. Pour the wine into the pan used to brown the meat, add the tomato paste, and bring to a boil, then pour the sauce over the meat. Complete with a cup of hot water, add the apricots, and cover the dish with foil, then bake them for 2 hours at 180 degrees Celsius. Finally, uncover the steak, add the sliced figs, and put them in the oven for another 20-25 minutes.
Lamb chops with cherries and mint
INGREDIENTS
8 lamb chops
One cup of sour cherries (fresh or frozen)
One large onion
½ cup tomato juice
One spoonful of sugar
3 tablespoons of olive oil
30 g butter 80% fat
2 tablespoons of balsamic vinegar
Salt
Pepper
One handful of fresh mint leaves
Parsley
First, put the sugar over the cherries (thaw completely) to macerate them slightly. Sprinkle salt and pepper over the lamb, then brown them well in the pan with olive oil, and set aside, covering them with aluminum foil. In the meantime, sauté the onion until golden, add the cherries, vinegar and tomato juice, and cook over low heat for 3-5 minutes. Finally, add the chopped mint and butter, then season with salt and pepper to taste. Use the sauce to "dip" the chops, sprinkle chopped parsley over them, and serve alongside baked potatoes.
Good appetite!
Source of photography: freepick.com